FlipHTML5 Offers Exquisite Digital Magazine Samples for Free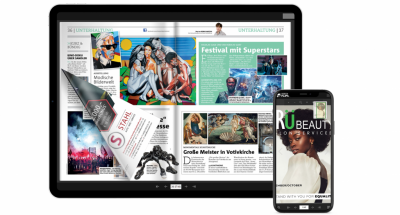 Magazines are among the most widely read publications as they are useful for both entertainment and information. As technology advances and the world goes digital, digital magazines are becoming the norm. Many traditional magazine publishers are therefore looking for innovative ways to join the digital revolution – tools to create and publish their magazines in digital format. Some inspirational digital magazines are also useful. FlipHTML5 is a superb digital publishing tool and has a lot of examples of digital magazines available.
"We're proud to offer our users an array of sample digital magazines from our many other users around the world," says FlipHTML5 Customer Service Jackie Peng.
FlipHTML5 is a one-stop-shop for digital publishers, whether new to the industry or experienced. The tool automatically converts static PDF files into interactive digital publications, including magazines. It offers various templates for a faster creation process as well as backgrounds and themes to give the magazine a professional look. And if magazine creators need more ideas, they can browse FlipHTML5's library of digital magazine samples.
Lots of digital magazine examples on FlipHTML5 will encourage magazine creators to use the powerful online media editor. The editor allows them to add audio, videos, trigger actions, animations, forms, polls, and hyperlinks to their digital magazine pages without downloading any software. This will provide readers with a more enjoyable reading experience. And the possibility of adding hyperlinks will increase the advertising capacity of the magazine.
Digital magazines created with FlipHTML5 provide readers with a similar experience to traditional magazines. Pages flip like printed pages, including page break sound. Pages can flip vertically or horizontally. Page navigation is easy – readers can swipe, tap the corners of pages, or click the next and previous buttons. The editor can also enable auto-flip in the magazine toolbar. A quick look at some of FlipHTML5's digital magazine examples will help publishers decide which option they prefer.
The finished digital magazine can be stored on FlipHTML5's server for free – and become a sample digital magazine for other users. Both online and offline publishing options are available and sharing the magazine is simple with a URL generated for each magazine. Publishers can even sell their magazines commission-free on FlipHTML5.
For more digital magazine examples, please visit FlipHTML5.
About FlipHTML5
FlipHTML5 Software Co.Ltd. is one of the world's leading providers of digital publishing software. For many years they have focused on researching and developing an outstanding line of electronic publishing software for users around the world. Also, they offer customized solutions for publishers in different industries.