Source magazine features article on Farrakhan and hip hop written by Final Call editor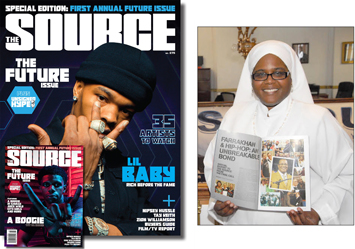 [ad_1]
Source magazine features article on Farrakhan and hip hop written by Final Call editor
By the last call | Last update: August 29, 2019 – 2:55:23 PM
What is your opinion on this article?
When social media giant Facebook made the unfair and controversial decision to shut down and ban Honorable Minister Louis Farrakhan from its platforms, few expressed their anger and outrage like members of the hip hop community.
(R) Final Call Editor-in-Chief Starla Muhammad.
Snoop Dogg, TI, Busta Rhymes and many more have joined the chorus of those who have come to the defense of a man who sacrificed his life for more than six decades in the mission of his father, the Right Honorable Elijah. Muhammad, in the resurrection and upliftment of black people and the oppressed all over the world.
The hip hop community, the Nation of Islam and Minister Farrakhan are intertwined throughout history in a relationship that stretches back decades. A supporter and friend of Min. Farrakhan with a massive print and digital platform, Londell McMillian, publisher of The Source, enabled The Final Call to share content with its readers regarding the Muslim leader.
The Source is one of the leading hip-hop magazines. "Farrakhan and Hip-Hop: An Unbreakable Bond," written by Final Call editor-in-chief Starla Muhammad, was featured in the Special Edition: First Annual Future Issue of The Source. The issue was published with two separate covers and artists, one featuring Lil Baby and the other featuring A Boogie 'Wit Da Hoodie.
[ad_2]